Changing Smiles Changes Lives!
I love being an orthodontist. I have the opportunity to meet and get to know so many great people, of all ages, and to build friendships with each of them. Whether I'm listening to younger patients tell me about their latest adventures or extracurricular activities, or talking with adults about their work day, I'm happy.
Orthodontics allows me the time to learn who a person is. Because treatment happens over several years, and I see patients about once a month, we have plenty of opportunity to forge a connection.
I enjoy watching how people blossom as they see the change in their appearance. Patients who started treatment feeling self-conscious and unhappy with their appearance begin to feel more secure in how they look, and start to open up. By the time they're finished, they're filled with confidence and love to share their amazing smile with everyone!
My patients are important to me as people: I'm lucky because I get to help my friends achieve healthy, beautiful smiles and change their lives.
Our Team
The greatest strength of Grand Rapids Orthodontics is our team. Each person is skilled and personable, and committed to delivering exceptional treatment. We want people to enjoy every step of their journey, so we strive to keep them smiling and laughing throughout treatment.
Education and Continuing Education
Bachelor of Science in biology – U.S. Naval Academy and University of Wisconsin-Madison
Doctorate of Dental Surgery, finished first in class – University of Minnesota Twin Cities
Certificate in orthodontics – University of Minnesota Twin Cities
A large part of my commitment to my profession and to my patients is continuing orthodontic education. By taking a range of classes, participating in study groups, and attending conferences, I learn from the leading researchers and practitioners in the specialty.
Staying current on advances in techniques, technology, and materials is essential. My patients deserve the best treatment — customized to their unique needs. Continuing education ensures I exceed their expectations.
Professional Memberships
American Association of Orthodontists
Midwestern Society of Orthodontists
Omicron Kappa Upsilon (national dental honor society)
Beyond the Practice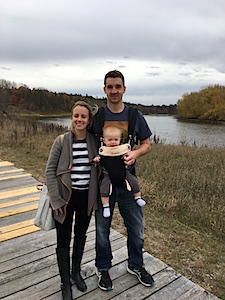 I am a Grand Rapids native and graduated from GRHS in 2001. I am thrilled to be able to return to my hometown community. When I'm not in the office, my priority is time with my wife and four sons. We have a family cat, Tigger, too.
We love going to our family farm in Meadowlands and our cabin on Pokegama. I also enjoy hockey, snowmobiling, hunting, and being on the lake.